For my birthday one year, my friend Kerry bought me a little tiny pin for my jacket, with a picture of a cartoon chef that says, "carbohydrates".

It was a simple little gift, yet I have grown quite attached to it- there aren't many things in this world that I love more than carbohydrates.
I love the way the starchy bread or pasta melts on my tongue, turning so quickly from flour to smooth delightfulness.

I love the way French fries start out salty, and melt into a satisfying goodness as I chew.

Hmmm…you may be thinking, "Jill- you and carbohydrates need to get a room."

Ahem.

Excuse me.
It's true.

I love carbohydrates.

However, I also understand that too much of them are bad for me (too much of anything is bad for me, but I digress).

I am told that this lovely, almost euphoric (for me, at least) taste comes from my body's breaking the carbs down into pure sugar.

That can't be good, right?

Well, while I don't think that I could ever go for the Atkin's diet, I have been trying to teach myself that there are some healthier substitutes that I can swap in sometimes.
Whole grains are an obvious and easy fix- I think that we all know that, now.

That helps.

However, today's blog is about another substitute.

It sounds so crazy that I almost sound like I am shilling for the Atkins Diet, but I am not.

I am talking about cauliflower.
I would like to share with you a couple of recipes that I have tried recently, and loved.

They seem to satisfy some of the carbohydrate cravings very well.

They aren't necessarily Weight Watcher recipes (although I would be curious to know the points values), but they are definitely healthier than their carb-laden cousins.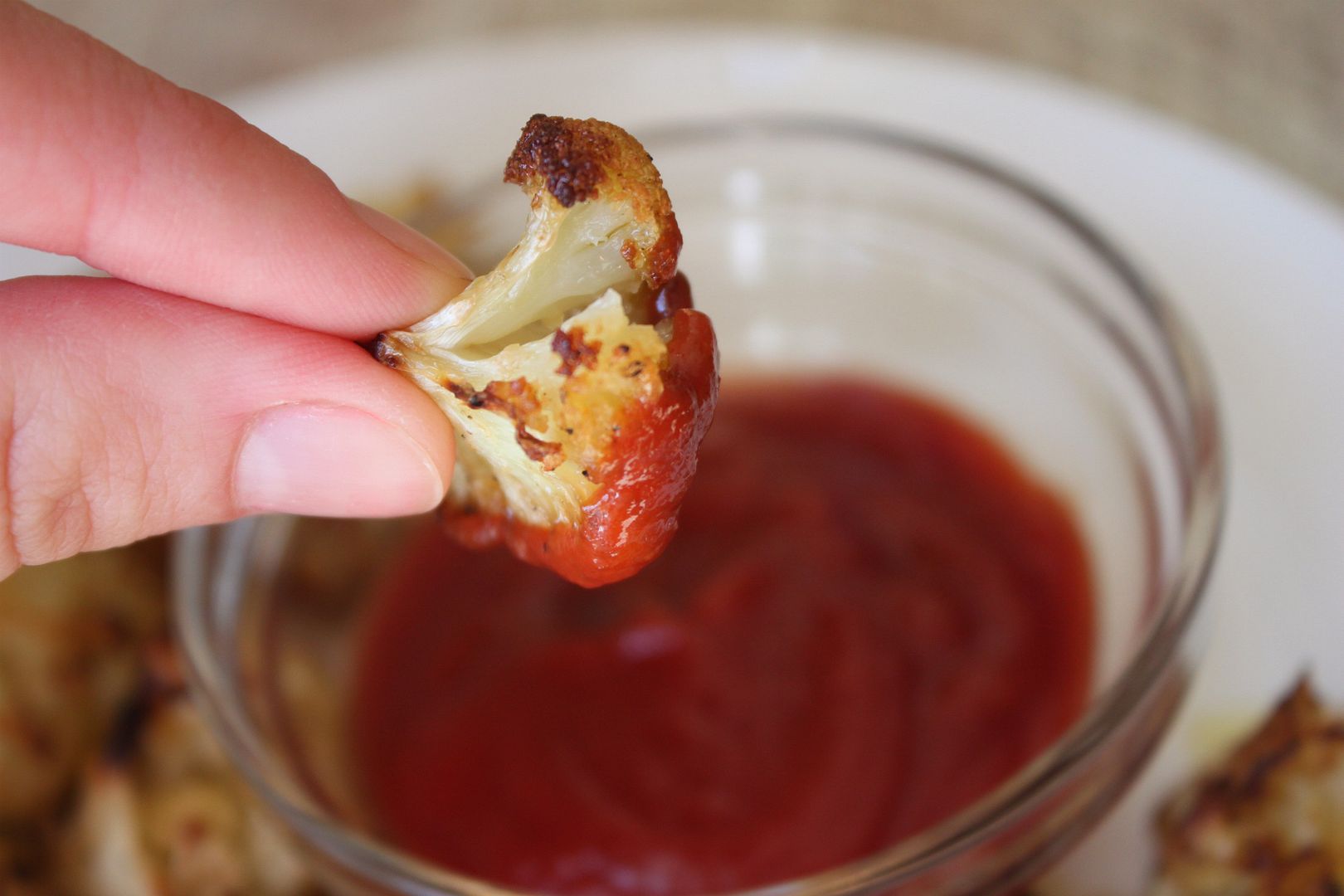 Easy and simple, this recipe from "Delighted Mama" simply asks you to cut up cauliflower into small bite-size pieces, coat with a little bit of olive oil, salt and pepper, and bake.

They were absolutely delicious.

The website claims that they taste like French fries.

I am not going to pretend that they taste just like French fries, but they most definitely calmed my craving for French fries, without the added calories.

John liked them too.

Try them and tell me what you think.

I can't wait to experiment with more spices.

I am thinking a little garlic would be delightful…maybe some Cajun spices, too.
This reciped from "Eat.Drink.Smile" is not quite as easy and simple as the first recipe, but worth the extra effort, to be sure.

I thought that I was going to have to eat a lot of it to be satisfied, but I was pleasantly full after only one small piece.

Again, I am not going to say that this pizza tasted just like a carb-crust pizza, but it definitely didn't taste like cauliflower, either.

It was uniquely delicious.
There you have it.

I am officially intrigued, Cauliflower.

I will be experimenting a lot more with you in the future.

I found a recipe for mashed "potatoes" using cauliflower, and another for cheesy bread (probably similar to the pizza crust).

I will keep you updated, Blog.
J